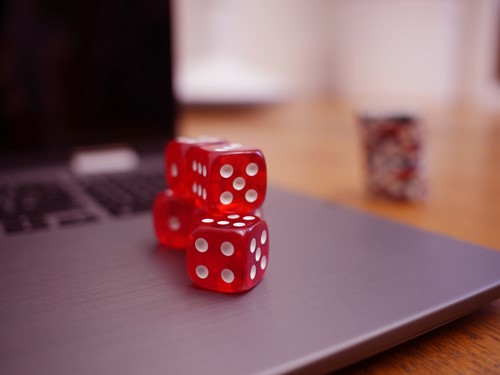 If you're looking for inspiration for your next virtual game night, try picking a specific theme. With the right preparation and details, a virtual theme party can be just as fun as an in-person one. Here are some ideas for throwing a fun party all while staying at home:
Casino Night
A virtual casino night with friends or family is the perfect way to achieve the feeling of an exciting night out while staying home. Pick a variety of casino games and play just for fun or compete for prizes. There are a wide variety of online card games you can play for free in pairs or in groups, as well as other fun online versions of popular games of chance like craps our roulette.
To make the experience even more immersive, have everybody dress up as if they were in a real-life casino. You can try themed costumes or go for full glitz and glamor. Create and share a "menu" of snacks and drinks that everybody can indulge in together and separately. While the games on their own are fun to play together, adding these finishing touches will really make the event feel like a night out.
Trivia Night
Trivia is an excellent group activity for players of all ages. You can use trivia games that will present the questions automatically or you can play game show host and provide the questions yourselves. Setting up a Jeopardy! style panel of contestants is one way to make a trivia night feel extra fun. If you're looking for something more automated, try party games like Jackbox or Houseparty. Otherwise, you can DIY your trivia night and create the questions and categories yourself.
Virtual trivia nights are another great opportunity to be creative and cater to specific interests. Try out themes like food, music, movies and pop culture so that everybody can bring their special knowledge to the virtual table. Otherwise, most games have a "general interest" selection of questions that cover a wide range of topics and can please any crowd.
Escape Room Adventure
Escape rooms are an example of an in-person group activity that translates very well into a virtual environment. If you're not familiar with the term, don't let the name fool you—you're not required to escape from anywhere. Rather, an escape room is a game of puzzles you solve in a team. There is a host, either live or built-in to the platform, who will provide clues as the game progresses. Escape rooms are a favorite for team-building exercises and they can be great fun with friends and family as well.
Online escape rooms come in all genres and levels of difficulty, so you have a lot to choose from. Some companies will host the entire thing for you and cater to your groups' specific needs. There are free versions available too, so an escape room adventure is a great option for a party on any budget.
When it comes to virtual theme parties, the possibilities are endless. These are just a few ideas to help inspire your next online get-together. No matter what type of game you choose, you'll have the fun and rewarding experience of interacting with friends and family while staying at home.